UGears Truck UGM-11 Mechanical Model
UGears
SKU:
UG70015
|
UPC:
4820184120259
Width:
22.00 (in)
Height:
7.00 (in)
Depth:
2.00 (in)
Ugears DIY self-propelled wooden 3D puzzle Truck UGM-11
The UGM-11 Truck represents a new generation of UGEARS mechanical models with greater sophistication and more features. This model runs, shifts, steers, and accelerates just like a real truck. First 'fuel up' by turning the lever on top of the cab. Then 'start' the engine with the shifter in 'idle' and see four pistons moving realistically under the folding hood. Open the cabin door to find a fully functioning steering wheel and even a working gas pedal. Ready for a ride? Shift the transmission into 'forward' or 'reverse' and watch your truck head back to the fields for another load of hay.
The UGM-11 Truck is what we call 100% "Rubberpunk," meaning a perfect blend of clockwork and steampunk worlds. We deliberately designed this model to have a raw, open look so even the casual observer could appreciate the marvels going on inside. This kit may take some time to build, but the rewards are absolutely worth it for those who love mechanics.
Self-assembly; No glue required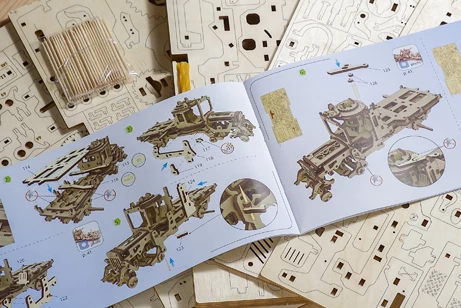 Truck UGM-11 mechanical model
Model size: 13.3*5.5*5 in (34*14*13 cm)
Package size: 14.6*6.7*1.6 in (37*17*4 cm)
Number of components: 420
Estimated time of assembly: 10-12 hours
Level:

Advanced